The Plan
The Town of Aurora has developed the new Strategic Plan to identify and assess growth and development opportunities that ensure the future economic, social and environmental sustainability and health of Aurora. This Strategic Plan emphasizes the development of local assets which capitalize upon the many strengths and opportunities in the area.
The following vision and goals are included in the Strategic Plan:
Vision: An innovative and sustainable community where neighbours care and businesses thrive
Community Goal: Supporting an exceptional quality of life for all
Economy Goal: Enabling a diverse, creative and resilient economy
Natural Environment Goal: Supporting environmental stewardship and sustainability
To view the final Strategic Plan click on the link or image below.

Strategic Plan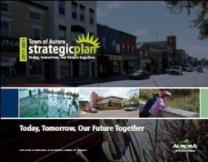 Strategic Plan Actions & Measures
The document below outlines the goals, actions and measurements for the Strategic Plan. To view the document click on the link or image below.
Strategic Plan Actions & Measures
Strategic Plan Report Card - May 2015
Strategic Plan Report Card - April 2014
Strategic Plan Mid-year Report - August 2013
Strategic Plan Mid-year Report - Attachment